Welcome to the home of the Tibamas in Norway!
---
Cavaliers since 1980 - breeding from the early nineties.

Owner and breeder of Cavalier King Charles Spaniels and King Charles Spaniels. Cavalier King Charles Spaniel since 1980! Breeder and/or owner of more than 35 champions in all 4 colours, mainly wholecolours.
Contact information: Aud Schønning & Øystein Schønning Holtskog, Hyniveien 301, 3721 Skien - ph. 00 47 98 83 89 00
e-mail: audschol@online.no
hol
On the start site: Tibama's Happy Dancer, who got his crown last weekend. He is now a Norwergian Champion.


We have a really nice blenheim male as well as a female from the same litters for showing and breeding (born in the end of June))- might go abroad to serious breeders. Their parents are Amantra Burlesque (one CC, just shown 2-3 times) and Tibama's Jewel by Urmenveen. Further we have a beautiful triclour bitch born on the 12 December last year. She is heavily marked, but has definitely show quality. Bred by parents at 6 and older - solid breeding.

Vi har drevet av oppdrett av cavalier i mange år og kjenner linjene og slektene våre godt. Det ser vi på som ekstra viktig når cavalierens generelle helse nå fokuseres sterkt.


Valper/unghunder m.m. til salgs:



Vi har en blenheim hann og en tispe til salgs - født i slutten av juni. Vi har også en tispe med feiltegninger som selges til redusert pris.





Vi har en tricolour hannhund, en black/tan og en tispe fra et flott kull født 12.12., i fjor, som vi nå (sept 2011) har bestemt oss for å selge til et godt hjem.

Ta gjerne nærmere kontakt.

Vi har også en liten B/T king charles hannhund som vi skal selge - ikke til utstilling/avl.

I tillegg ser vi fortsatt etter et godt hjem for en frisk og rask hannhund på 7 år (tricolour) som dessverre mistet familien sin p.g.a. sykdom. Han har meget sterke linjer, og vi tror han har mange år foran seg.



Due to other actiities, we have reduced our number of dogs - espeially bitches. We have in addition developed a nice and well working cooperation with Milja's Cavaliers in Sweden. Some of our earlier Tibama's are now living there. We are really thankful to Marielle and her family for the way they are conducting this cooperation and their loving care of all the dogs.

This website will during the coming month be updated with photos of the dogs who are still living here with us. In the meantime, please find an updated overiew of our available stud dogs below:

Dogs at stud - Wholecolours:

Salador Channon, Black/Tan, DOB 5th Nov 2001

Harana Ringo Starr, ruby, DOB 6th April 2005

Xantes Prince vom Paulinenhof, Black/Tan DOB 28th April 2006

Harana Michael Bubble, ruby, DOB 19th March 2008

Tibama's Happy Daner, Black/Tan, DOB 6th May 2007

Tibama's the Love You Save, ruby, DOB 15th August 2008

Tibama's Smooth Criminal, ruby, DOB 27th May 2009

Dogs at stud - particolours:

Amantra Alan A'Dale, blenheim, DOB 7th Dec 2006

Amantra Burlesque, blenheim, DOB 31st Aug 2006

Tibama's Super Trooper, Tricolour, DOB 8th Aug 2006

All our stud dogs are cheked for hearts, eyes and patellas. For more details, please give us a call or send an e-mail.

At the moment we have some really solid and nice dogs available at stud. The health of the cavaliers is focused at the moment - in Norway as well as abroad. In this situation we have decided to offer some of our dogs for general stud, since we feel quite sure that they can be a solid contribution to the breed of cavaliers in our country.

We have recently presented Amantra Burlesque - a lovely blenheim male who from Amantra. Matthew is available for stud and he is producing really lovely and lovely puppies.

The next one to be presented is our lovely Simba - Tibama's Golden Master Builder. Simba is going to two of our really solid and sound cavaliers - Tibamas Golden jJuliet, who died summer 2010, 11 1/2 years old and Ch.Homerbrent Perry, who died at an age of 12. Simba has produced lovely puppies in Germany as well as Norway, and he has a current heart certificate, valid in Norway and Sweden. Simba was 6 years old in May. We will shortly present more information and photos of Simba.

The Love you Save -- prsented at the start site and his father Xantes Prine vom Paulinenhof are available at stud with all papers available.

Nest stud dog out will be Jerry - Tibama's Happy Dancer - 1 CC - several reserve CC's

Salador Channon was 9 years old in November 20109. He is still going strong - with a clear heart - he had latest check in spring 2009. He produces lovely puppies, and his pedigree is going back to solid dogs who were all really old before they died. One of his grandfathers was 17 years old when he passed away.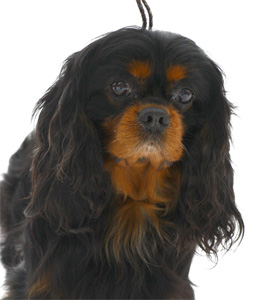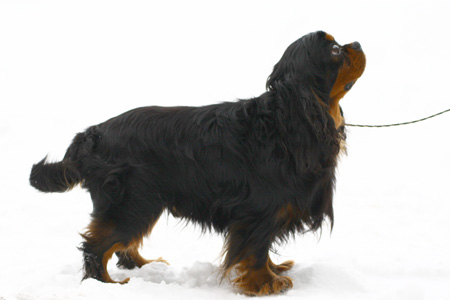 Salador Channon, DOB 5th November 2001 (Salador Celtino & Salador Cassy) - 1 CC - several reserves.
BIS veteran an the main Cavaliershows 2010.